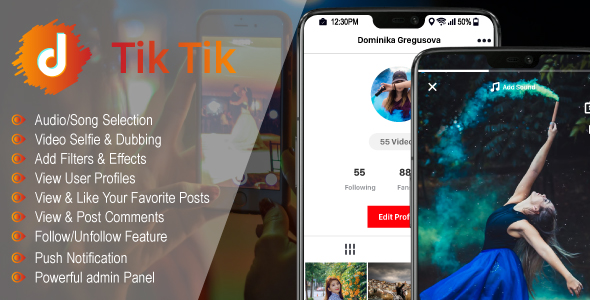 Native Android App built-in Android Studio

Tiktik – Android app for creating and sharing short videos. The customizable social video application to build your own trending video sharing platform with video dubbing features, various filters & social media integrations & more. Build your unique Tik Tok / Musical.ly / Dubsmash-like Clone Today!
Some of the user's apps links listed below using our app
Extended License

Extended license buyers will get an additional feature which is Amazon S3 Storage. The application will have an option if you want your application videos will be stored locally or on S3. The application performance will be fast if the videos are stored on s3.
Change Log

Version 2.6 Updated 5 June 2020

-Mobile App
    1. bug fixing & improvements 
        2. notifications in the tab bar
        3. Single Button Click for a recording
        4. Video delete option. 

-API
        1. API security


Version 2.5 Updated 11 May 2020

-Mobile App
    1. bug fixing & improvements 



Version 2.4 Updated 14 April 2020

-Mobile App & Web Portal
    1. bug fixing & improvements 
    2. Improve sound uploading via portal


Version 2.3 Updated 21 Dec 2019

-Mobile App & Web Portal
    1. able to block/unblock user [New]
       2. able to add new sounds in bulk (.aac) format [Fixed]
    3. able to publish sounds file with selection of section [Fixed]
    4. able to add/edit/remove sound section [Fixed]
    5. able to add video in mobile app discovery [Fixed]
    6. able to to delete video [New]
    7. user able to remove video via mobile app too
    8. bug fixing & improvements Mobile app




TicTic - Android media app v2.2

- Camera Stretch issue fixed

TicTic - Android media app v1.9
New features
- Click on a hashtag will load videos
- Followers list
- Double-tap will like the video
- User can follow and unfollow each other 
- Upload Video from gallery 
- Notification screen 
- Direct Message
- Bugs fixed
- Improvements have been done
- Download video option added

TicTic - Android media app:

- Chat with users
- Chat Inbox
- Notifications on like , comment 

TicTic - Android media app v1.8

- Android 9 Supported
- SDK 28 Supported